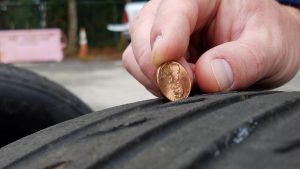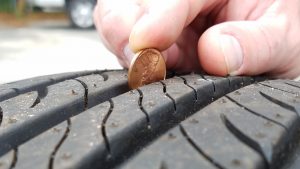 With a wet weekend approaching it's important to check your tires if you plan on doing any driving around.  Many people assume that the primary purpose of tire tread is to grip the road surface when in reality, tire tread works to funnel water from under your tire when driving on wet roadways.  Here is how you check your tire tread to ensure sufficient depth for driving on the roadway.
 Using a penny, turn it up side down so Abraham Lincoln's head is facing down and stick it between the tire tread
If the tread reaches the top of Lincoln's head or above, then your tire tread is sufficient.  If the tire tread does not reach the top of Lincoln's head then it's time to replace your tires.
Also keep in mind that if there is a lot of standing water on the roadway it may be best to stay off the road until roadway conditions improve.
This is just another example of what we teach our Driver Education students.
Stay safe,
SDTC Staff